Two Trees Planted: Reforestation at Component Sense

"The best time to plant a tree was twenty years ago. The second best time is now."
― Ancient Chinese Proverb
As a company, Component Sense is committed to sustainability. We are a team of environmentally-conscious individuals and are always looking for ways to clean up the electronics industry. Our business model actively works to reduce the carbon footprint of the electronic component manufacturing industry. By focusing exclusively on excess and obsolete components, we limit the number of electronic parts being sent to landfill or recycled for (at best) 10% of their value. Our proud mission is to lead manufacturers towards zero waste!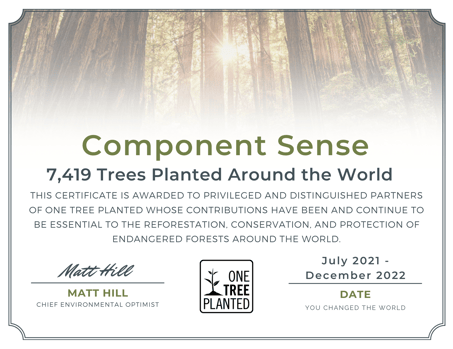 Our environmental efforts extend into supporting reforestation and biodiversity endeavours around the world. In July 2021, we decided to partner with the reforestation charity, One Tree Planted, which plants native trees in international, endangered forests. Our initial aim was to plant one tree for every order received. Since then, we have financed the planting of almost 7500 trees!
At the end of 2022, we decided to go one step further and double our reforestation efforts. We now plant two trees for every order we receive — one for the buyer and one for the seller! As our company continues to expand internationally, we are excited to think of the number of trees we can sponsor. These plants can offset carbon emissions, promote oxygen production, and foster biodiverse ecosystems! According to One Tree Planted, 80,000 acres of forests disappear from the Earth daily, and we are eager to help limit this devastation. As an ancient Chinese proverb states, "the best time to plant a tree was 20 years ago. The second best time is now."
By purchasing 100% traceable, counterfeit-free, and reliable electronic components from Component Sense, you can help make the electronics industry more circular and sustainable. Not only this, but you can support the planting of native trees globally. Let's be part of the solution together!
To read more about Component Sense's environmental activities, click here. Alternatively, email us if you have any specific questions: marketing@componentsense.com.