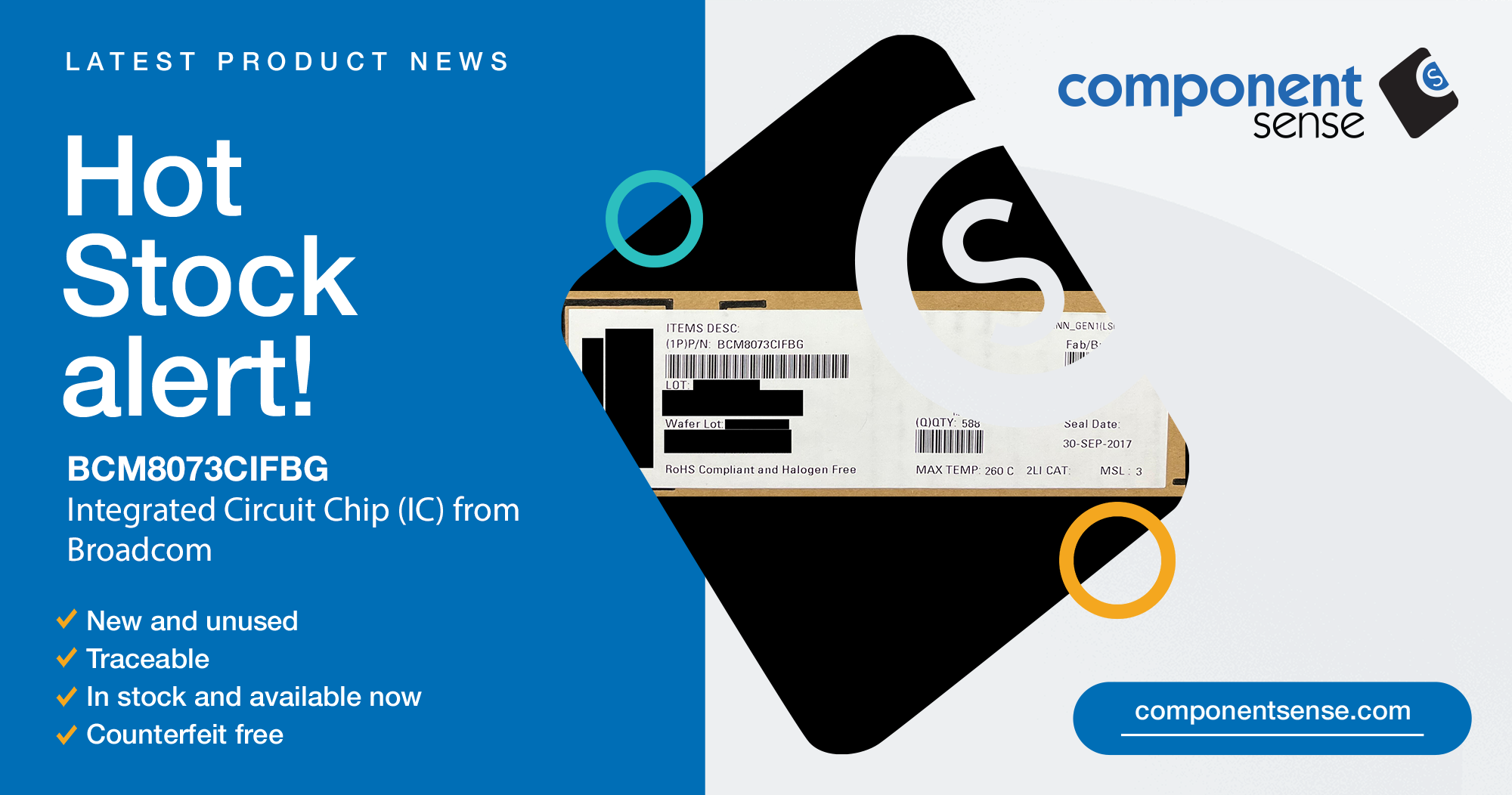 Product Spotlight: BCM8073CIFBG IC Chip from Broadcom
In the constantly evolving landscape of technology, the demand for reliable and efficient electronic components to drive connectivity solutions has never been higher. Among these vital components, the BCM8073CIFBG Integrated Circuit Chip (IC) from Broadcom stands out as an exemplary device, and the good news is that Component Sense currently stocks this exceptional product, ready to empower your electronic manufacturing.
The BCM8073CIFBG: Unmatched Connectivity
The BCM8073CIFBG represents a cutting-edge solution crafted to enhance connectivity across various applications and industries. Manufactured by the US telecommunications giant, Broadcom, this component delivers robust performance and functionality that meets the demands of modern connectivity requirements.
At the core of the BCM8073CIFBG lies its exceptional capability to facilitate seamless connections. This transceiver component delivers high-speed, reliable data transmission across networks, ensuring stable and consistent connectivity. Its versatility makes it a go-to choice for various applications, including telecommunications, networking, and beyond.
Efficiency and Performance
The BCM8073CIFBG features a low-latency design, which allows for high-performance computing. Its equalisation supports new and legacy back chain channels, and Broadcom's trademark LINKEYE Signal Integrity Tool is perfect for high-sped system designs. With its advanced design and optimised architecture, this component maximises data throughput while ensuring minimal power consumption. This makes it an ideal choice for applications where both speed and energy efficiency are critical.
Versatile and High-Speed Connectivity
As a multi-gigabit transceiver, this component acts as a robust link, ensuring stable, rapid, and dependable data transmission across various networks. XAUI and 10G differential pairs can be reversed to facilitate layout. The BCM8073CIFBG's versatility makes it an ideal choice for applications demanding substantial bandwidth, such as data centres, telecommunications and networking infrastructure.
Advanced Signal and Reliability
The signal is paramount in any communication system, and the BCM8073CIFBG shines in ensuring reliable data transmission. This part is equipped with enhanced diagnostics and advanced signal processing capabilities, which provide users with signal quality monitors, reduce errors, and ensure seamless connectivity across networks.
Why choose Component Sense?
At Component Sense, are proud to be a leading electronic component redistributor. All our parts are sourced directly from OEMs or EMSs, and we are delighted to offer the BCM8073CIFBG to our international customer base. When you purchase from Component Sense, you can feel secure knowing our parts are:
🔹 Brand-new
🔹 Unused
🔹 Traceable
Plus, we aim to reply to all RFQs within 20 minutes and offer same-day shipping, wherever you are in the world. Our expert team are on hand to assist you throughout your experience with us.
Click the button below to find out more about the BCM8073CIFBG and purchase this hot stock item: