Cost reduction Freescale Part - MC33972ATEW / MC33972ATEWR2 / MCZ33972AEWR2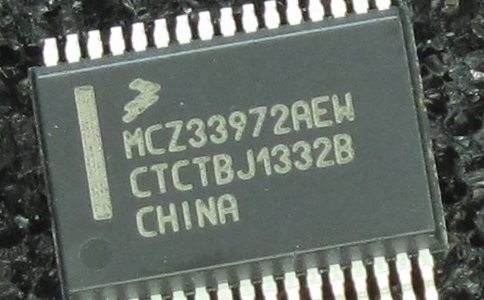 ---
We have a vast stock of this part at greatly reduced prices. All stock is new, unused and fully traceable to the Freescale Factory.
Our part, MCZ33972AEWR2 is a Form, Fit & Function, Pin­ for ­Pin Equivalent to MC33972ATEWR2, MC33972TEWR2 and MCZ33972EWR2.
So here's the back story to this Freescale part number and it's variants...
'A' indicates -14 to 40 VDC Switch Input Voltage Range as opposed to the standard -14 to 38 VDC. As this is an Automotive version and a wider specification range it is compatible in place of the standard part.
From September 2006 until 2013, Freescale added a 'Z' to the prefix to denote RoHS compliance (MCZ33972AEWR2). Click here to see Freescale's data sheet as evidence.
Freescale then announced in 2011 a phased move of silicon die production from their TOULOUSE FAB in France to TSMC in Taiwan. A letter 'T' was added to signify TSMC.
At the same time the 'Z' for RoHS was dropped as only RoHS parts were manufactured from this moment on (MC33972TEWR2). Click here to see Freescale's data sheet as evidence.
For high volume users you will reap great rewards as MCZ33972AEWR2 is typically a $2 part and we are supplying it from as little as $0.70 USD!
To buy online visit our store! click here
Contact us here today to buy MCZ33972AEWR2 and save, save, save!
---