OEM and EMS Cost Savings, No Risk!

---
It is a tough challenge for most OEM and EMS companies to compete with their tier 1 counterparts. Typically smaller companies pay 30-40% more than they need to for basic commodity parts. Flextronics or Jabil prices are unachievable for the majority of OEM and EMS companies because of their position in the marketplace.
Many Broker OEM and EMS companies are signing up to our New "BOM Matching" service to access fully traceable, top quality guaranteed parts at a fraction of their current cost. You are perhaps already buying our stock via your preferred suppliers.
Our Bill of Materials (BOM) Matching Service
Our BOM matching tool is a highly sophisticated system that brings you significant cost savings for little effort. Basically, you put all of your BOM (all the products you require to build your product) into our system. You can upload your requirements straight into our website in various formats such as an Excel spreadsheet or CSV. Once it is uploaded we then scour the world looking at prices. We can compare your prices to the current market. The parts that lie above the red market price line (see graph below) are over priced compared to today's prices. This highlights areas where you can re-negotiate with your suppliers to improve your pricing.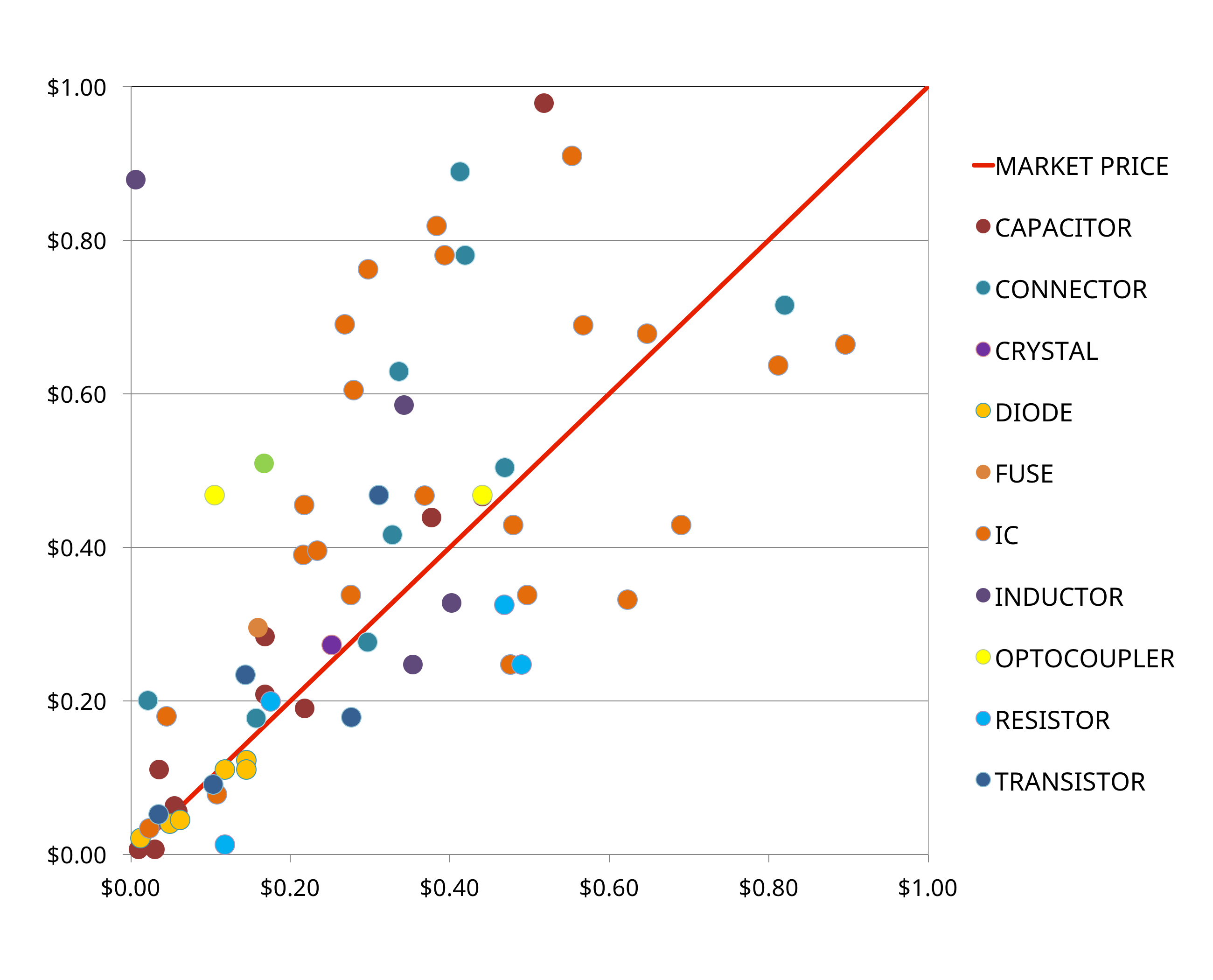 Similarly, it also identifies parts that you are buying particularly well. For those parts that you are getting great deals on, there is scope for you to make some money. If you have surplus stock of that product then we can market that for you and sell it perhaps for a profit. It is a win-win scenario. If all of your parts lie close to the red market price line then you are probably doing a fantastic job. Well done!
Typically there will be products that you can save money on and products you can make money on. It is very easy and fast to upload your bill of material and start saving. We do all of the hard work and we will come back to you when there is money to be made or saved.
Benefits of BOM Matching
Simply, it helps you keep track of your buying. Quite often companies will set up contracts and they will get good pricing at that moment in time which is great. If you don't review your prices regularly then you may lose out. It is similar to the stock market, component prices rise and fall constantly. Certain brands will manoeuvre their prices at different times of the year. If you sign a contract at a bad time you are tied in for two to four years paying the same price when in fact, that part may have been falling in value year on year for some time. It is easy to get caught out.
Managing your spend used to be a laborious task for a buyer. You probably spend days upon days going through your Bill of Material, negotiating with your suppliers and going out to tender. Typically a whole team would be involved looking for cost reduction opportunities.
Our BOM matching service simplifies this process for you. Every day we obtain millions of prices from all over the world. Put your BOM into our system and get access to 6 years of data and see your results. We quickly show you products where you can save money. What used to be a big team job for weeks on end can now be outsourced. We are using technology that didn't exist 10 years ago.
Concerned about giving out your Bill of Materials?
Many companies think that there is a risk, sharing their Bill of Materials. Companies are often nervous of giving out their BOM typically because they are worried that it contains intellectual capital. There is to some degree, however, in reality, this information is collected on our secure servers. Nobody is examining each component in fine detail. Our focus is on saving you money and not on working out what you are building. Also, most BOMs are made up of lots of products. The companies we typically deal with are very large companies and they will be building many different products. If you merge the whole BOM together nobody on the planet could decipher it.
Maintain your Supply Chain
Many OEM and EMS companies call upon an Independent Distributor or Broker to search for hard-to-find and obsolete parts. We are not suggesting you abandon your trusted existing relationships. Our services complement those of your incumbent suppliers.
We advertise on various forums (NetCOMPONENTS, Broker Forum, IC Source, Octoparts and many more Asian based platforms) and already supply regularly to all of the major brokers. You can also search through our own stock on our website, componentsense.com. If you wish you can purchase direct from our new cart facility.
Data Protection
We can reassure you that any information shared stays within Component Sense and can only be accessed via your secure login. We sign Non-Disclosure Agreements (NDAs) with all our clients and that is standard. When you submit your BOM it is automatically covered under our NDA. There is no way we would pass on the information to any other third party.
---