Q1 2019 saw the global chip market post its worst quarterly performance in a decade, with the world's top 10 semiconductor suppliers all suffering year-on-year sales declines. Global chip revenue fell to $101.2B, down by 12% compared to Q1 2018. This represents the largest year-on-year decrease since Q2 2009.
Memory chips were largely responsible for the plummet in sales; removing their impact, sales would have fallen by just 4.4% during Q1. However, additional factors contributing to the market's poor performance include falling demand in major markets and a rise in excess inventory.
Samsung of South Korea suffered the biggest hit in the first quarter, with sales falling 34.6% year-on-year. The company's performance was affected disproportionately by falling demand, rising inventory, and plunging prices for memory chips which made up 84% of its semiconductor business in Q1.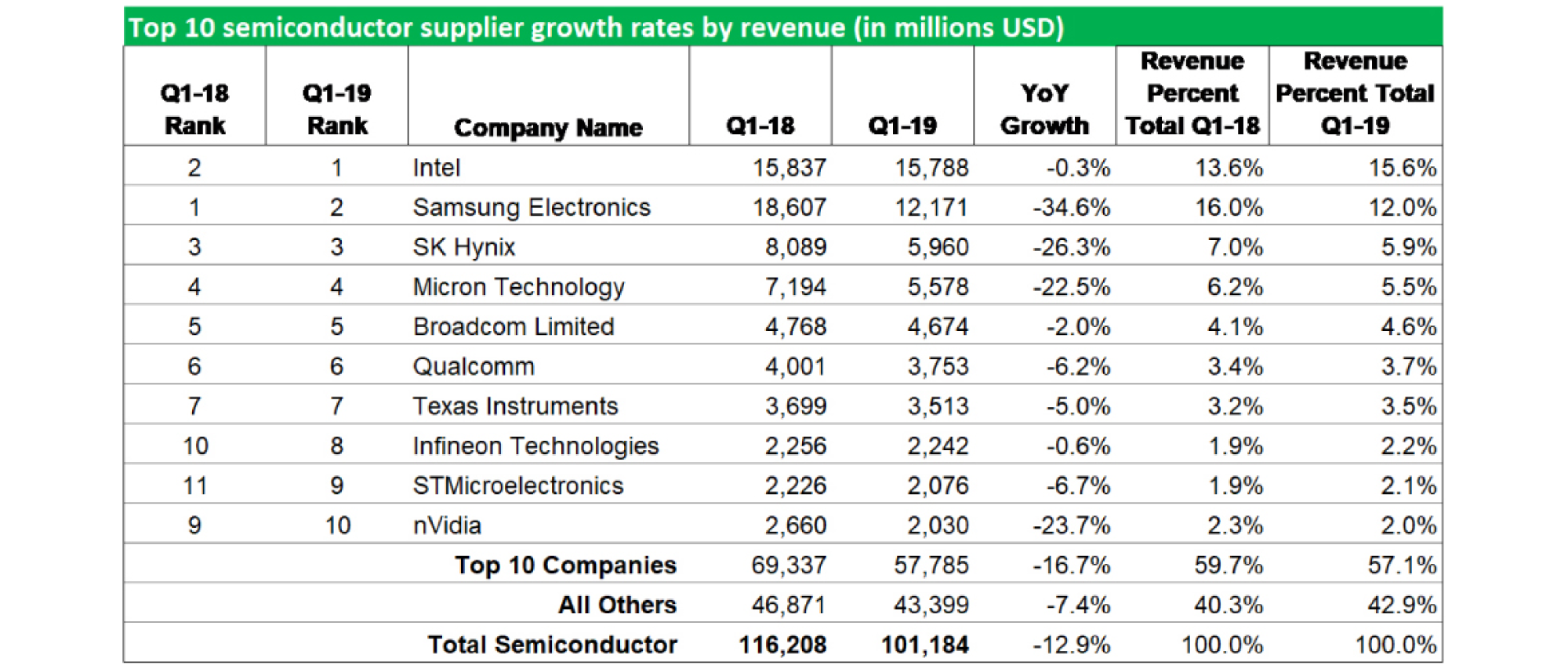 (Source: Competitive Landscaping Tool Intelligence Service, Q1 2019. Copyright 2019 IHS Markit.)
The other memory-oriented companies in the top-10 companies were also affected by the downturn, including SK Hynix of South Korea which suffered a 26.3% decline compared to Q1 2018, and Micron of the US which declined by 22.5%. The memory market also experienced a decline, with sales reducing by 25% compared to Q4 2018. DRAM revenue declined by 26.1% sequentially, and NAND flash dropped by 23.8%.
Holding onto the top spot in the Q1 semiconductor rankings, US-based Intel posted the best performance, avoiding the worst of the downturn with sales falling only 0.3% year-on-year. This is largely thanks to the company's limited exposure to memory sales, with memory chips accounting for less than 6% of its revenue. Nevertheless, Intel's microprocessor business was still impacted by rising inventory, as well as increasing demand from the PC, enterprise and cloud sectors.
Despite the sharp downturn, the top-10 supplier rankings remained largely unchanged from Q4 2018. Outperforming its competitors, Infineon climbed the ranks to take 8th place, with its sales falling by a minor 0.3% and enjoying a relatively strong performance in the automotive chip business.
Swiss firm STMicroelectronics suffered a 6.7% drop in sales year-over-year on account of sluggish sales in the wireless market.
US supplier Nvidia experienced a nosedive in revenue, with a 23.7% year-on-year decline, influenced by a fall in cryptocurrency as well as direct competition from Advanced Micro Devices in the graphics processing units market.